Yoav Zeif
Chief Executive Officer
Yoav Zeif brings broad, global experience in industry transformation to Stratasys, having served in senior leadership roles for both public and private multi-billion-dollar corporations, leading worldwide operations across industries and professional domains. Zeif was President of the Americas Division, Head of Product Offering and Chief Commercial Officer at Netafim, the world's largest micro-irrigation company, from 2013 to 2018. Prior to that, he was Senior Vice President of Products and Marketing at Makhteshim (now Adama Ltd.), a global crop-protection company, where he managed the entire portfolio of products and all global commercial relationships. Since 2018, Zeif has been a partner in the New York office of McKinsey & Company.
Zeif obtained an Executive MBA from the Kellogg School of Management at Northwestern University and a Ph.D. in International Economics from Bar-Ilan University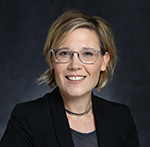 Lilach Payorski
Chief Financial Officer
Lilach Payorski was appointed Chief Financial Officer, effective January 1, 2017. Prior to her appointment as CFO, Payorski served as Senior Vice President, Corporate Finance, leading the corporate finance function following the Objet-Stratasys merger in 2012. Payorski also served as a CPA with Ernst & Young LLP, in Israel and Palo Alto, CA. With more than 20 years of finance experience prior to joining Stratasys, Payorski held various financial leadership roles, including positions at PMC Sierra, CheckPoint Software Technologies, and Wind River Systems.
Payorski holds a B.A. in accounting and economics from Tel Aviv University.
Richard Garrity
President, Americas
Richard Garrity was appointed President, Stratasys Americas, in August 2016. Previously, Garrity was Senior Vice President and General Manager, Vertical Solutions, overseeing aerospace/defense, automotive, medical, and dental vertical business units as well as Stratasys Strategic Consulting. Garrity joined Stratasys in 2010, serving as Vice President and General Manager for its RedEye subsidiary, now part of Stratasys Direct Manufacturing.
Garrity has a B.S. in general management and marketing and an MBA from the University of Minnesota's Carlson School of Management.
Guy Yair
Executive Vice President EMEA & APJ
An industry veteran with nearly two decades of senior leadership experience, Guy Yair serves as Executive Vice President of EMEA and Asia Pacific and Japan. Appointed to this position in 2017, Yair is currently responsible for driving company strategy and go-to-market across these key regions. Prior to Stratasys, he acted as Chief Executive Officer at Jacada. Yair was also part of the senior leadership team at WiMAX technology leader Alvarion, Ltd. and championed enterprise sales at Bynet Data Communications as the company's Executive Vice President of Sales.
Yair earned an MBA from Recanati Business School, Tel Aviv University.
Omer Krieger
Evp Products, Stratasys
Krieger currently serves as Stratasys EVP Products, setting the global roadmap and go-to-market direction and plans for their companywide execution, leading the product and application engineer teams. Krieger previously served as the General Manager for the Stratasys Asia Pacific and Japan businesses, from March 2015 through March 2018, following his role as Vice President of Sales for the region. Krieger has spearheaded product innovation, driving customer adoption in the 3D Printing and Additive manufacturing domains, since his 2009 tenure at Objet Geomotries as Product Manager and through 2012 and the merger of Objet with Stratasys – today the global market leader in this advancing market.
Krieger holds a Bachelor of Sciences in biomedical engineering and an MBA.
Amir Kleiner
Vice President, Global Operations
Amir Kleiner was appointed to the role of Vice President of Global Operations in 2016, responsible for operational strategy and end-to-end execution at Stratasys. Kleiner joined Stratasys in 2011, serving in a number of capacities prior to his current role, including VP of Global Supply, VP of Israeli Operations, and Director of Quality Assurance and Operational Excellence. Kleiner brings more than 15 years of experience from global companies, including Kodak, where he worked from 1998 to 2010.
Kleiner holds a B.S. in industrial engineering from Ben Gurion University and an MBA in finance and information systems from Tel Aviv University.
Nadav Goshen
CEO, Makerbot
Nadav Goshen is Chief Executive Officer of Stratasys' MakerBot subsidiary. Prior to being appointed CEO in January 2017, Goshen served as President of MakerBot. Before joining the company, Goshen led private equity investments in mobile and tech and served as CEO at SweetIM, worked at YoY, and was Deputy CEO at Babylon. In addition to his role at Stratasys, Goshen is an angel investor for startups, and serves as an advisor and board member for various companies.
Goshen holds a B.A. in Cinema & Television from Tel Aviv University.