Yoav Zeif
Chief Executive Officer
Yoav Zeif brings broad, global experience in industry transformation to Stratasys, having served in senior leadership roles for both public and private multi-billion-dollar corporations, leading worldwide operations across industries and professional domains. Zeif was President of the Americas Division, Head of Product Offering and Chief Commercial Officer at Netafim, the world's largest micro-irrigation company, from 2013 to 2018. Prior to that, he was Senior Vice President of Products and Marketing at Makhteshim (now Adama Ltd.), a global crop-protection company, where he managed the entire portfolio of products and all global commercial relationships. From 2018 - 2020 Zeif was a partner in the New York office of McKinsey & Company.
Zeif obtained an Executive MBA from the Kellogg School of Management at Northwestern University and a Ph.D. in International Economics from Bar-Ilan University
Christian Alvarez
Chief Revenue Officer
Christian Alvarez was appointed Chief Revenue Officer at Stratasys in November, 2022, where he is responsible for driving all of Stratasys's sales, customer experience lifecycle solutions and partner engagement through global leadership of the sales and partner functions. Alvarez brings almost three decades of go-to-market expertise spanning from sales, partner ecosystem, business strategy, marketing, customer success, and operations. He has extensive experience in managing global field and sales organizations, driving significant revenue growth efforts with outstanding success. Alvarez has a track record of leading high-performance teams in executive management roles at some of the world's leading telecommunications and technology companies. In his almost 30-year career in technology, his focus has been on transforming organizations to achieve significant growth, driving innovation while effectively managing profitability and developing high-performing teams. Prior to joining Stratasys, Alvarez held a number of senior executive leadership positions in companies like Nutanix where he served as Senior Vice President of Worldwide Channel Sales, Juniper Networks, Cyan a Ciena Company, Avaya, eLandia Group, Connexion Technologies and Terremark Worldwide a Verizon Company.
Alvarez received a Bachelor of Computer Science from Robert Morgan Technical College.
Yossi Azarzar
Chief Operating Officer
Yossi Azarzar joined Stratasys as Chief Operating Officer on November 1, 2020, responsible for operations, customer service and MIS. Azarzar brings over 25 years of operations leadership at several publicly traded industrial companies, most recently Frutarom, where he managed 76 production plants across six continents. Previously, Azarzar served as Chief Operating Officer of SodaStream, where he built and managed the company's production strategy and global infrastructure. Prior to that Azarzar was on Intel's core team that planned and executed their state-of-the-art factory in Kiryat Gat.
Azarzar received his BA (Cum Laude) at Hebrew University, MBA from ONO Academic College and holds a Directors Certificate from IDC.
Vered Ben Jacob
Chief Legal Officer
Vered Ben Jacob serves as Stratasys' Chief Legal Officer, responsible for all Legal and IP matters of the company, including corporate, commercial, employment, compliance and ethics. Ben Jacob joined Stratasys in 2013 as VP of Legal Affairs, established and has been leading the global legal and compliance function of Stratasys, spanning legal and compliance professionals in Israel, Europe and the United States. In 2018 Ben Jacob expanded her responsibilities by taking over leadership of the Stratasys global Intellectual Property function. Ben Jacob is a seasoned professional with an over-20 year career. Prior to joining Stratasys, Ben Jacob served as General Counsel of Retalix Ltd. (prior to its acquisition by NCR), a dual-listed (NYSE and TASE) global leading software provider and as member of the Amdocs (NYSE: DOX) legal team, where she served mainly as legal counsel to the corporate finance function. Previously, Ben Jacob counseled numerous global public companies, mostly on corporate, securities and compliance matters, in private practice.
Ben Jacob has an LLB and MBA from the Tel Aviv University and is a member of the Israeli Bar.
Richard Garrity
Chief Industrial Business Officer
Richard Garrity was appointed Chief Industrial Business Officer in August, 2022. Previously, since August, 2016, Garrity was President, Stratasys Americas. Prior to that, Garrity was Senior Vice President and General Manager, Vertical Solutions, where he oversaw Stratasys' product and service offerings in the aerospace/defense, automotive, medical, and dental vertical industries, as well as Stratasys Strategic Consulting. Garrity joined Stratasys in 2010, serving as Vice President and General Manager for its RedEye subsidiary, now part of Stratasys Direct Manufacturing.
Garrity has completed the Advanced Management Program at Harvard Business School and holds a B.S. in general management and marketing and an MBA from the University of Minnesota's Carlson School of Management.
Rani Hagag
Chief Health Care & Consumer Business Officer
Rani Hagag was appointed Chief Health Care & Consumer Business Officer in December, 2022. Prior to joining Stratasys, Hagag served as CEO at OrCam Technologies, a leading AI solutions innovator in the domain of consumers' health and assistive technologies. Previously, Hagag was the President of Lumenis' Medical Aesthetics Group, where he led the B2B solutions, as well as the consumer products businesses. Prior to Lumenis, Hagag was the Co-founder and CEO of Biopolymer Tech, a biochemicals company that developed and commercialized a disruptive technology to transform abundant plant proteins into industrial materials. The company was acquired by the French Government Bank and Groupe Avril to form Evertree, a global, green-industrial business. Earlier, Hagag was with Comverse, a global telecom solutions provider, and held leadership positions of Corporate Strategy and Business Development, VP Products and Marketing, as well as General Management roles. Prior to Comverse, Hagag spent several years as a strategy consultant with Arthur D. Little.
Hagag holds an LL.B. (Honors) from the University of Oxford Brookes and an MBA from the University of London.
Guy Menchik
Chief Technology Officer
Guy Menchik is a 3D printing industry veteran, bringing 30 years of broad experience in technology innovation, managing game-changing product and application development in additive manufacturing. From 2001 to 2020, Menchik was VP of R&D at Stratasys, and at Objet before the merger, where he was part of the team that invented the PolyJet technology and led the development of the PolyJet solution from ideation phase through successful launch. Prior to that, from 1992 to 2001, Menchik was senior project manager at Scitex, leading the development of various printers for the pre-press market. Menchik has 83 granted patents and more pending.
Menchik obtained his B.Sc. in Electronic Engineering from the Tel Aviv University.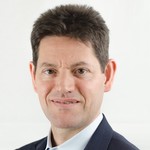 Eitan Zamir
Chief Financial Officer
Eitan Zamir was appointed Chief Financial Officer effective February, 2022. Since 2019, Zamir has served as Stratasys' VP of Finance, responsible for overseeing all external financial reporting, accounting, tax, treasury and Sarbanes-Oxley compliance. Zamir's expertise in financial reporting, US regulatory environment, debt and equity financing, and complex M&A transactions has served his leading roles across capital raising and M&A activities at Stratasys. Previously, Zamir spent nearly two decades at PwC, including 7 years as a Partner in Tel-Aviv and New York. At PwC, Zamir counseled large, multinational US-traded enterprises across multiple sectors, helping them navigate complex transactions and audits, working with their senior management and Boards of Directors as their trusted advisor in all areas of finance.
A certified public accountant, Mr. Zamir holds a B.A with honors in accounting and economics from the Hebrew University in Jerusalem, and a Master of Science with an emphasis in financial management from Tel Aviv University.